Ely Shopper Online!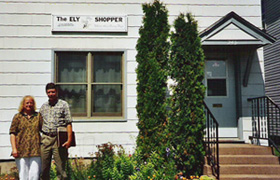 Since 1932, The ELY SHOPPER has provided the Ely area with a unique advertising media. Published every Wednesday, we deliver over 4,400 shoppers to Ely, Babbitt, Winton, and rural routes in the surrounding area. Whether you are a person selling your old boat and motor, a club announcing your next meeting or a downtown business announcing this week's sale,
The ELY SHOPPER is "Where Advertising Pays."
Business Display Ads, Personal & Business Classifieds, Flyer Delivery, Birthdays, Thank You Ads, Announcements, etc.